Carter Brings Chemistry Expertise to Disease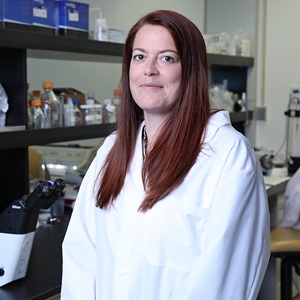 Mass spectrometry is a technique used to assess the tiniest particles known. It was mostly a chemist's tool for its first century of existence. But increasingly, as further refinements to the concept made it more adaptable and incisive in the 21st century, other scientific disciplines have found critical usage for it. Science and medicine have benefited increasingly from the detailed look into the dynamics of biomolecules and therapeutic compounds at the level of their individual elements.
Claire Carter, a research assistant member at the Hackensack Meridian Center for Discovery and Innovation (CDI), has used her expertise in a special kind of mass-spec known as "Matrix Assisted Laser Desorption/Ionization," or MALDI, to get deeper insights into infectious diseases. The next phase of her career may be even more ambitious: a new brain tumor research program that aims to impact the clinical setting in a real-time way in the very near future.
"Mass spec is increasingly important - no other technique can do what it does," said Carter. "I'm pretty confident we can help push the science forward and improve lives for patients."
"Claire is an ambitious professional, and her new direction is going to benefit not only the CDI, but also neuro-oncology as a whole," said David Perlin, Ph.D., the chief scientific officer and senior vice president of the CDI. "Her expertise perfectly complements her clinical partners."
Mass Spectrometry Imaging
Carter became exposed to MALDI mass-spec imaging early in her education by her analytical chemistry lecturer during her undergraduate degree. She received her Bachelor's in Biomedical Sciences from Sheffield Hallam University in the United Kingdom, which encompassed a 1-year work placement as a trainee scientist in a clinical Histopathology department that was part of the United Kingdom's NHS.
It was this combination of events, studying the manifestations of disease and the early exposure to the then niche field of mass-spec imaging that she came to realize the importance of mass-spec analysis for both pathology and drug development. Next stop was honing her craft, and earning her doctorate, in MALDI-MS imaging at the University of Sheffield and the University of Birmingham. Her specialty was imaging and analyzing lipids, which are regulatory molecules that are also the building blocks of virtually all organisms.
It was a good field to be entering: at that point in mass-spec history, just under a dozen or so teams worldwide were doing the really advanced technique of tissue imaging. Newly trained, and always with a bit of the "travel bug," Carter sought a career opportunity that would expand her horizons a bit. Two of the most promising jobs were in Taiwan - and the University of Maryland.
Carter chose the United States to do her postdoc work. She worked as part of an international team who assessed the radiological threats in the wake of the 9/11 attacks. Specifically, she used her expertise to assess the radiological biomarkers in models of the after-effects of a "dirty bomb." It was satisfying if difficult work, because it was clear how devastating radiation injuries are.
In 2018, she made a career move back toward an infectious disease she had some experience with from her days in grad school: tuberculosis. She joined the lab of Veronique Dartois at the Public Health Research Institute at Rutgers University, where her expertise came into play with critical contributions to discover how new TB drugs under development penetrated infected lung granulomas to enable their efficacy, through her detailed look via MALDI-MS.
"I had some experience with TB, and I knew it was a good move to challenge me," said Carter.
A Transtition to Neuro-oncology
The following year, Carter came to the CDI along with Perlin, Dartois and several of the other labs at the PHRI and in 2020, with the support of CDI, began transitioning to a more independent PI role.
But now that Carter and the CDI have a clinical connection to the Hackensack Meridian Health network spanning across New Jersey, there were opportunities to accelerate the "real-time" science as espoused by Perlin. Carter began working on adult glioblastoma, a deadly brain tumor, and their first pilot study is about to be published. Despite medical intervention, patients with rapidly growing brain tumors like glioblastoma rarely survive longer than 12-15 months. Because of their aggressive nature and location in the brain it is very difficult for surgeons to remove all of the tumor and most difficult of all, it is extremely heterogeneous. Single treatments don't really affect the entire disease, and there are few options beyond surgery and the one chemotherapy that works (for a time).
The strategy is: to take the clinical samples of glioblastomas, and create models which will allow in-depth and detailed testing of the different lipids and metabolomics of the tumors. By mapping these vastly different parts of the cancer, it can lead to the identification of pathways that can be targeted with drugs and then further testing of already-approved drugs aimed at these pathways. The first full project will involve 50 samples of glioblastomas in adults.
It was through this work that she was connected with two pediatric brain-tumor specialists who want to drive new clinical solutions forward: neuro-oncologist Dr. Derek Hanson, M.D., and Dr. Timothy Vogel, M.D., a brain surgeon. Together they have amassed a huge level of expertise and clinical samples in pediatric brain tumors including embryonal tumor with multilayered rosettes, or ETMRs. The team of Carter, Hanson, and Vogel have set up the lab with the assistance of Tackle Kids Cancer, a fundraising project by the Hackensack Meridian Health Foundation. Carter is also involved in a clinical trial on which Dr. Hanson is the lead PI, as part of the Exploratory Objectives to aid in determining the mechanisms that lead to patients responding or not responding to a new therapy.
"I want to identify tumor phenotypes, build a panel of biomarkers, and implement targeted therapy for each patient," said Carter recently. "No one cure is going to beat cancer - it's too varied and individual to respond immediately to any one treatment."
Carter grew up as one of five children in Peterborough, a small city about an hour outside London. She was an avid soccer player, and still closely follows the English Premier League's Arsenal. Now she is a dedicated yogi, and spends her time reading or walking her dog.
Work is paramount, though. The high point of her career so far has been the transition from the PHRI to the CDI - because there is so much potential for actively making an impact in the translational side of science.
"Working alongside clinicians to make rapid translational solutions to help clinical outcomes - I don't think there's anything that could be more satisfying for a scientist," said Carter. "If we can come up with something efficacious and non-toxic, which can help save lives, then it will be my greatest satisfaction… I'm one of those researchers, as cheesy as it may sound, who loves my job."