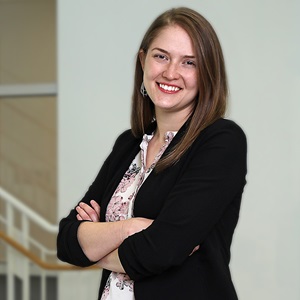 Anxiety; stress; depression; mental health conditions. Our behavioral health is as critical to holistic well-being as any other factor, since these effects can exacerbate, or even trigger, other medical conditions.
Heather Derry-Vick, Ph.D., is a health psychologist and one of the most recent arrivals at the Hackensack Meridian Center for Discovery and Innovation (CDI). Her work focuses on the "psychosocial" aspects of disease - how the mental aspects of health can impact the sheerly physical.
"My interests broadly are at the intersection of physical and mental health," said Derry-Vick recently, from her office within the Hackensack Meridian School of Medicine. "Behavioral research has always been the cornerstone of my work - I'm looking at the connections between the brain and behavior, and disease."
"Heather's work is a vital complement to other avenues of science at the CDI," said David Perlin, Ph.D., the chief scientific officer and senior vice president of the CDI. "She aims to make a clinical impact as soon as possible, especially for cancer patients - a critical focus of the CDI's mission."
The Psychologist Is In
Derry-Vick is a clinical psychologist by training. She has seen patients with depression and anxiety in a variety of settings - those in primary care, those in medical rehabilitation programs, and a wide variety of niches in between.
But it's the research of discovering mental/physical feedback loops which has drawn her into forming her own CDI lab, looking to the ways that mental health challenges can worsen disease - and how these patterns can be disrupted to improve well-being.
Stress and anxiety can cause problems - and exacerbate others. "In stressful situations, the body goes through changes - think of 'fight or flight,'" she said. "But it's not just adrenaline pumping or blood pressure rising - the immune system and other functions are also impacted by stress."
Derry-Vick has two main thrusts to her research. First, it's aiming to understand how stress responses can be dysregulated for some people - by going on longer or being larger than a "typical" response, and how this impacts chronic conditions. Second, because people respond differently to stress,Derry-Vick also envisions finding out who is most susceptible to harmful responses or negative effects of stress, and studying ways to intervene.
These two fields of inquiry are broken down into projects underway in the Derry-Vick Lab. The primary work so far is based on stress management, and in testing new ways to help people with cancer to manage stress and anxiety at specific points in their care. Another line of her work is"biobehavioral," which links psychosocial factors like stress and depression with physiological markers that impact disease development and progression - such as inflammation.
These areas of her work truly coalesced during her four years as a postdoctoral fellow at Weill Cornell Medicine. In the Division of Geriatrics and Palliative Medicine, she was mentored by Dr. Holly Prigerson. Her work came to focus on how "stress affects the way we think and process information." She studied how patients with advanced cancer who had higher anxiety were less accurate in understanding discussions about what their scan results showed - especially for difficult news.
These results led to the foundation of her current support: a National Cancer Institute "Pathway to Independence" award that she brought with her to the CDI last year. Currently she is engaged in a few projects in the next phase of this work, which includes research coordinator Amanda Khoudary. Foremost is adapting a set of tools to help patients with Stage-IV lung cancer to manage stress as they await scan results - a phenomenon that's been popularly called "scanxiety." Already she's seen the huge upside in working through the CDI to partner with the clinicians at the John Theurer Cancer Center at Hackensack University Medical Center.
"Here there are so many opportunities to collaborate with other experts from different fields, and their perspectives are critical for our work" she said.
Another current undertaking is a pilot study done jointly with colleagues from the Georgetown Lombardi Comprehensive Cancer Center. In that project, Derry-Vick and Dr. Claire Conley are looking to understand how Black patients with advanced lung cancer and their clinicians discuss symptoms and side effects, since data has shown that those patients have greater needs in symptom management than their White peers. With input from community advisory board members, they are starting to investigate why that is - and if it could be that discussions in appointments unfold differently, leaving unmet needs - and how to support productive discussions.
Biobehavioral - A View Into the Future
Although Derry-Vick had brief experiences in wet labs as an undergraduate, it was instead the application of that work to behavioral science which most interests her. In graduate school, she trained in Dr. Janice Kiecolt-Glaser's psychoneuroimmunology lab at the Ohio State University, learning to study the physical and emotional effects of stress in a controlled setting. She now looks to apply these skills and findings to clinical populations. For instance, while she was at Weill Cornell she applied this expert lens to a study that looked into aging among a population of HIV-positive individuals. Working with colleagues in Infectious Disease and Geriatric Medicine, she was able to add a subproject involving additional assays to assess cytokines and C-reactive protein (CRP, a biomarker for inflammation) in participants' blood samples, cross-referenced with levels of depression and/or histories of childhood trauma.
It's that kind of discerning look at the biological markers, and how stress and anxiety correlate with them, which will drive her future biobehavioral looks into the results from the wet lab.
"I have an interest in how we might bring that psychosocial lens to different settings, to better understand which patients may be most at risk, and new ways of helping them through health problems," she said.
Derry-Vick's early inspiration for this work was found close to home. Her grandfather has lived a long time with transverse myelitis. By observing how he has coped with its difficulties, it served as a foundational question for the work she's currently doing now.
"By just seeing what he's experienced, his outlook, and what he's dealt with," she said, "I became interested in how people can react and cope with serious health conditions in a positive way."
Derry-Vick grew up outside Pittsburgh in North Huntingdon, PA, where she was an avid basketball and volleyball player along with her younger brother. Her mother is a nurse, and her father is a finance manager. Currently, she lives in New Jersey with her husband and cat. Hiking is perhaps her favorite time spent outside the lab.
"Being on the trail is a happy place," she said.