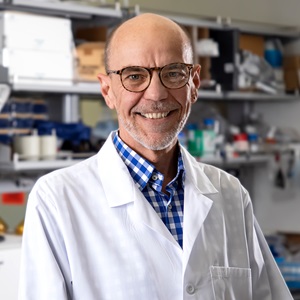 The doctoral student had hedged his bets. Using genetics he made a conceptual prediction based on mutations in Staphylococcus aureus, hypothesizing how the antibiotic chloramphenicol would induce drug resistance in a particular strain of the germ. But he had also taken a tangible biochemical approach to prove that his mechanism was accurate, using X-ray film to confirm the microscopic activity.
So one day in 1990, the student found himself running to the darkroom in the University of Heidelberg. As the images slowly developed, the student's heart quickened. The pattern on the X-ray film (reflecting the "footprint" of a ribosome on a specific messenger RNA) were exactly what the genetic data had predicted, perfectly aligned with the hypothesis.
"It was an overwhelming feeling - that science can comprehend the world," recalls Thomas Dick, Ph.D., member of the Center for Discovery and Innovation and professor at the Hackensack Meridian School of Medicine. "It was a terrific moment in my career, and in my life."
Knowledge is a passion for Dick. The lifelong pursuit of knowledge began as a child in Germany, when he happened upon a book that attempted to explain the entire universe of human scientific knowledge. The curiosity thus took him from his native Heidelberg to the opposite, tropical end of the globe - and deep into the microscopic frontier battling against tuberculosis and its Mycobacterial cousins.
"How does it work - what are we made of - where are we going?" said Dick. "For me, these questions are natural. To try to answer them is the greatest thing in life."
"Thomas Dick is a tenacious scientist," said David Perlin, Ph.D., the chief scientific officer and senior vice president of the CDI. "He is one of the leaders in the field, and he is pushing forward in ways that others haven't envisioned."
Beginnings, Outward Bound
Dick grew up in Heidelberg, an old university town in the heart of the Electorate of the Palatinate. He was raised in a supportive and loving family which was decidedly non-academic. He was not athletic, and not interested in sports. Books instead became his greatest obsession, reading everything he could get his hands on.
Then came "Im Anfang war der Wasserstoff" ("In the Beginning was Hydrogen"), a 1972 popular science book by physician Hoimar von Ditfurth. It attempts to explain the history of the universe, from the Big Bang, to evolution, relativity, astrophysics, biology, everything.
"This was my first science book… and it changed my life," Dick recalls. "I didn't understand much when I read the book… but I did realize that one can understand the world by applying scientific concepts. We can hold the universe in our hands and contemplate it. And it's beautiful. Very beautiful."
Science became a particular love. He excelled at school, and went to the University of Heidelberg to study microbiology and then molecular bacteriology - where he had that darkroom epiphany.
But his reading was not limited only to science. He also read about travel - and from afar, he fell in love with Southeast Asia, which led to backpacking and hiking trips around Indonesia, Sumatra, and New Guinea - "lots of adventures," as he recalls it now. When it came time to select a place to do his postdoctoral work, he chose the Institute of Molecular and Cell Biology (IMCB) in Singapore. He finished his work in Developmental Biology there in 1996 - and it only furthered his zest for discovery in the laboratory and beyond.
"I lost my heart not only in Heidelberg but also in Singapore," said Dick. "It's a great place to live and work - and to do science. It's truly a cosmopolitan place. A city of the 22nd century, and a tropical island."
The Notorious TB
At the IMCB and then Novartis in Singapore, Dick trained his focus on Mycobacteria.
The genus itself is ancient - and pathogenically notorious. The tubercle bacillus (Mycobacterium tuberculosis) is an infamous member of this group, affecting and killing millions of people with the disease tuberculosis (TB), year after year.
Dick established and led the TB program at the Novartis Institute for Tropical Diseases in Singapore, where he learned the drug discovery process and pipeline from "the best"; his boss there was Dr. Alex Matter, a Swiss-born physician now known best for the development of Gleevec, a first-of-its-kind tyrosine kinase inhibitor drug for use against chronic myeloid leukemia, which was approved by the FDA on a fast track in 2001.
Dick and his scientists developed drugs and promising breakthroughs in antibacterials for tuberculosis, which has proven to be one of the most stubborn infectious diseases despite decades of research by scientists.
A Pivot to NJ - and NTM
Novartis "de-prioritized" tuberculosis in 2011. The TB difficulty for major pharmaceutical companies is twofold: antibacterials are not especially lucrative; and TB is an exceptionally stubborn opponent.
"This together makes working on TB drugs not very attractive for a company," said Dick. "We have to do this in academia. And we can do academic drug discovery."
Dick transplanted his work to the National University of Singapore in 2011 - and then later the Public Health Research Institute at Rutgers University's New Jersey Medical School in 2017, where he continued his research into the TB problem. With the creation of the CDI in 2019, he joined longtime colleague (and partner) Dr. Veronique Dartois in establishing a fully enabled antimycobacterial drug discovery platform by engaging CDI and external collaborators bringing the required domain expertise to the table, including in vivo pharmacology and medicinal chemistry. The collaboration is closely entwined with his lab colleagues: Drs. Dartois, Matthew Zimmerman, and Martin Gengenbacher, as well as Drs. Jickky Sarathy, Abdeljalil Madani, Dereje Negatu, Wassihun Aragaw and Uday Ganapathy, and his chemistry and structural biology collaborators in the United States, Europe, and Singapore.
His work has focused on something called NTM, in addition to TB, since his arrival in Nutley.
Over the past few decades relatives of the tubercle bacillus, called 'non-TB mycobacteria' (NTM), have become responsible for increasing numbers of lung disease worldwide. Comprising 200 species, M. avium and M. abscessus are clinically the most relevant NTM pathogens. Shockingly, even drug-susceptible M. abscessus disease is not reliably curable with current medications. This bacterium is thus one of the examples showing that we have already entered the feared and widely discussed 'post antibiotic era,' as Dick points out.
"The slow-moving tsunami of untreatable bacterial infections approaching humankind has reached us," he said. "New drugs that deal with pathogens such as M. abscessus are urgently needed."
"Understanding the tricks used by the bacteriotoxic molecules to derail homeostatic networks in bacteria - and the tricks invented by the bacteria to counter these assaults is simply fascinating. It's evolution at work," he said.
Dick exploits this knowledge to discover new antibiotics to keep increasing antimicrobial resistance at bay. One major paper emerged in 2020 in the journal Nature Communications, in which Dick and team proved how the first-line TB drug Pyrazinamide works by actually degrading its protein target inside the germ - and thereby showed "the basis for the rational discovery of next generation" treatments of variations of it. Another recent example: he and the team published a paper in June 2021 in the Proceedings of the National Academy of Sciences pointing to how an enzyme inhibitor called triaza-coumarin, or TA-C, is metabolized by the TB germs, which makes it effective in inhibiting the disease from within, like in a "Trojan horse" attack.
The Future
Dick lives a short distance away from the CDI, and he travels by foot or bike to work at the lab. His ultimate professional goal is to develop a new, hugely effective drug to treat TB and NTM - and also mentor the next generation of scientists while doing so.
He hikes locally, and travels when circumstances allow. He's taken up chess in recent years, and he reads voraciously about the world around him. He keeps up with his parents in Heidelberg, and his children Elena and Jonathan (both adults, in Amsterdam and London, respectively) via lots of "coffee sessions" over FaceTime.
Eventually, when work and time allow, he'd want to do nothing less than write a sequel to "In the Beginning was Hydrogen." A conversation with the scientist can, and does, extend out to the farthest reaches of the universe, to the boundaries of human understanding. He'd like to write that next book to perhaps bring that understanding to another child, like him, who's endlessly curious and has a passion for knowing.
"The book is still largely correct since it was written 50 years ago - but many exciting things were discovered in the last few decades, especially in astrophysics and the life sciences. Time for an update," he said. "I would love it if I could contribute that more people enjoy the beauty of science, the beauty of our universe, and the living things in it."