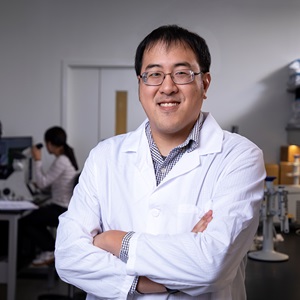 Picture this: a cancer patient has their tumor tissue sampled, collected, and sent to a laboratory. The tissue is grown in a dish, and can be cloned into organoids. The scientists analyze the entire genetic sequence – then tactically aim drugs at the cancer's molecular vulnerabilities. Whatever works in the organoid should work on the patient, giving doctors the edge back in the hospital.
It could soon be regularly happening at Hackensack Meridian Health.
"Can I test in real-time, a drug screen in an organoid and know as soon as possible exactly what combination of drugs is going to work for that patient's unique cancer?" said Kevin Tong, Ph.D., the assistant member of the Hackensack Meridian Center for Discovery and Innovation (CDI), from his lab. "It's the definition of 'personalized medicine.' It's a dream. But I think we can make it come true."
This may be the future of cancer treatment at Hackensack Meridian Health, via the science of the CDI and particularly the mission of Tong, a recent arrival to the CDI whose lab has focused on molecular profiling of cancers, particularly colorectal cancer. But while he continues to use his expertise to study mutations and tactics of cancer, he is also looking toward these organoids under a microscope which could provide a key strategy to defeating tumors on an individualized basis.
"Kevin Tong is a scientist who has had a terrific start to his career," said David Perlin, Ph.D., the chief scientific officer and executive vice president of the CDI. "We're thrilled he brought his work to the CDI, where it will complement so much of the other fundamental investigations of cancer here."
Colorectal Cancer
Colorectal cancer is a mercurial, heterogeneous beast to tackle. It is a disease which has a variety of root causes in genetic mutations and environmental factors, and has always been a puzzle for clinicians and scientists. Key breakthroughs were made in the 1980s by Burt Vogelstein, M.D., now of Johns Hopkins, who developed a "Vogelgram" showing the genesis of colorectal cancer based on genetic mutations, and their progression through human biology. It was the first model of its kind done for any kind of cancer, by most accounts.
Of course, the picture has become increasingly complex in the ensuing 30-plus years of cancer biology. Tong is one of investigators seeking to find new details within the Vogelgram, accurate though it may largely be, in a large cross-section of cases. One particular pathway that Tong has focused on is the "serrated" form of colorectal cancer. One aspect of this more-difficult variety of the tumor is the BRAF-mutation-driven variety – and particularly the loss of a critical tumor suppressor known as SMAD4.
Several projects revolve around a novel mouse model, a Tong creation, which aggressively generates serrated tumors that emulate human varieties of the cancer.
Tong and his laboratory have found that SMAD4 might actually play a greater role earlier in serrated colorectal cancer – that SMAD4 is critical to prevent serrated tumors from even starting.
Organoids
Tong did his postdoctoral work at Rutgers University. But when opportunity arose at the CDI to further accelerate his work, he seized it.
"What sold me on the CDI was the translational aspect of the work," said Tong. "Here you have a network supporting you – and you get to move the work as close to the clinic as you possibly can. That's what it's all about."
Just a few weeks ago, Tong received the first patient samples from clinical settings in Hackensack Meridian Health and has successfully established organoids from them. But it's just the beginning.
Coupled with the access to the rapidly-growing Bio-Repository at HMH, the ambitious project has just become that much closer to a "personalized medicine" reality, he mentioned.
"We know everybody wants to do this in healthcare," he said. "But we want to be ahead of it. We want to help drive it forward."
Personal
Tong grew up outside Princeton. He has a sister four years younger than him who works at Princeton. Both his parents are retired computer engineers who worked for telecom giants.
From a young age, he was a "techie" involved with computers, video games and the like. He also was an avid hometown sports fan, of the New York Giants and the New York Mets. At the same time, he was a "music geek" – he spent long years studying piano and guitar, and he was in the high-school marching band.
He has been married five years and the happy couple can commute together; wife Caitlin works at Modern Meadow, the biotech company which is in the same building at the CDI.
Tong said he is excited to keep pushing his work forward – and has found the place to do so.
"My dream is to translate my research to help patients," said Tong. "What's better than that?"