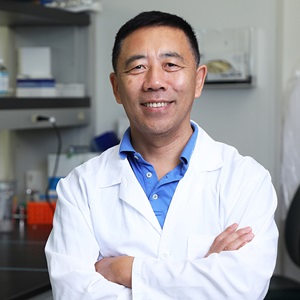 Hai-Hui "Howard" Xue is an immunologist studying the incredibly complex symphony of T cells in the immune system. One molecule regulates another, which in turn regulates a third amid a cascade of other dynamics that impact virtually every aspect of human health. T cells are born in the thymus, and they serve critical functions in fighting infections, and diseases like cancer, after the matured T cells are deployed to tissues.
For some, the seemingly endless T-cell puzzle could be considered daunting. For Xue, a relative newcomer to the Hackensack Meridian Center for Discovery and Innovation (CDI), it merely presents further vistas for scientific opportunity. Xue is somewhat relentless – not only in his pursuit of the next milestone toward ultimate understanding, but also in a kind of irrepressible optimism which leads him to each new finding.
Xue's latest review article in Nature Reviews Immunology is an authoritative status update of the entire T-cell discipline revolving around a key pathway as it stands right now for the rest of the scientific community. And the news is good – because since there is so much more to learn, there is so much more to gain.
"Today always represents a high point for me. I believe I am becoming more knowledgeable today than in previous days," he said recently. "The improvement may not be huge every day, but it is a cumulative effect that shapes my thinking. I hope to keep this momentum for the coming years."
"Howard is on the cutting-edge of this critical niche," said David Perlin, Ph.D., the chief scientific officer and senior vice president of the Hackensack Meridian Center for Discovery and Innovation (CDI). "Bringing his expertise to the CDI was a coup for us for his insights and leadership."
Xue (pronounced "sh-yue") came to the CDI last year after nearly 14 years at the University of Iowa. There he honed his expertise on critical aspects of T cells and stem cells, particularly as it relates to mouse genetics, molecular biology, cellular immunology, systems biology approaches to delineate transcriptional and epigenetic regulation.
The CDI represents the chance to rapidly discover and innovate – as is clear right in the institution's name, and the guiding vision of Dr. Perlin, said Xue. The goal is nothing less than to establish CDI as a destination for this discipline in immunology.
"Perlin's vision is to push forward innovation in basic science and emphasis on translational science into therapeutic applications – that's critical," said Xue. "But another motivation is that being in a young institute, I can contribute to shape the focus and direction of research programs. In fact, we are now moving toward to build our strength in research of T cell immunity, which will likely create a nationally recognizable brand by making a strong impact on the field."
T-cells are a pivot in virtually every aspect of the human immune responses – the standing army conscripted at the cellular level to respond to invaders. But its complexity defies any such simple description.
Take Xue's latest paper: it focuses on the key pathway T cell factor 1 (TCF1). It's what Xue calls a "core regulatory circuit" for almost all T cell functional aspects. While its known for its predominant regulatory functions relating to different T cells, TCF1's role includes: promoting the self-renewal of stem-like CD8+ T cells generated in response to viral or tumor antigens, which could boost checkpoint blockade immunotherapy for cancer; differentiating follicular helper and T follicular regulatory cells in helper T cells; crucially regulating immunosuppressive functions of regulatory T cells; and functioning as the first transcription factor to show the capacity to bridge transcriptional and epigenetic regulation.
As Xue and colleagues write in the paper: "TCF1 also has the potential to become an important clinical biomarker for assessing the prognosis of tumor immunotherapy and the success of HIV and HCV viral control."
Xue's other recent publications have shown ways that these pathways could potentially be modulated to produce more effective vaccines by taking the natural "brakes" off the immune system, and also to better treat chronic and acute myeloid leukemia. The scientist continues to pursue ways to get toward deeper levels of understanding than ever before.
"We happened to study one of the most important regulators of T-cell immunity during the past decade," Xue said recently. "Since our initial publication in Immunity in 2010 on the function of TCF1 in mature T cell responses, there has been exponentially increased interest and knowledge in this molecule in various T cell subtypes.
"We are trying to identify key pathways that we can manipulate to achieve optimal T cell responses," he added, "such as optimizing T cell output from blood stem cells, enhancing memory T cell formation and function in vaccination, and restoration of dysfunctional T cells due to exposure to the tumor microenvironment."
The fundamental, never-ending curiosity has been with him for as long as he can remember. Growing up in China, Xue had an innate curiosity about the way things work which ultimately brought him to the United States at the turn of the millennium.
"I always dreamed of becoming a scientist, to better understand the governing rules in nature since a young age," said Xue. "I thought the US could be the best place for me to reach that dream."
Xue earned his M.D. degree at China Medical University in Shenyang before earning his Ph.D. in Biochemistry in Japan, at the Hamamatsu University School of Medicine. He came to the United States in 2000.
His wife, Dr. Dongmei Zhao, is a physician, now also working in the Hackensack Meridian Health network and has been at the frontline combatting COVID19 since their relocation in the midst of the pandemic. Their relocation to the East Coast from the Midwest has brought them closer to their children. His son, Shi-Ke, is an engineer at Google, in Cambridge, Mass., and his daughter Wingel is still in college in Baltimore, Md. When not in the lab at the CDI, he plays badminton and he finds time to travel; his office is filled with trinkets and pictures from locations across the world – and not just those near scientific conferences.