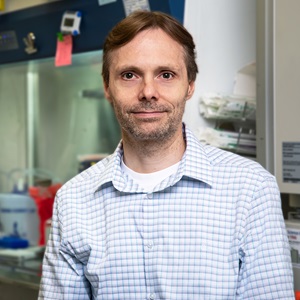 Empowering the immune system to combat cancer, including the use of immunotherapies and cellular therapies, is one of the great medical breakthroughs to start this century. But getting the immune weaponry targeted specifically for tumors and scaled up to defeat them has been one of the bottlenecks.
One of the scientists working on innovative ways to maximize the effect of these cellular and molecular tactics is Johannes Zakrzewski, M.D., an associate member of the Hackensack Meridian Center for Discovery and Innovation (CDI).
Zakrzewski, as a Pediatric Stem Cell Transplant Attending Physician at Hackensack University Medical Center, is also one of the physician-scientists who are hoping to accelerate the "bench to bedside" pipeline that the CDI hopes to convert into saved lives very soon.
"This is really the mission of the CDI – to focus on the translational aspect of the science, and what we can do for patients," said Zakrzewski (pronounced "Zak-chef-ski"), who is also an associate professor in the Department of Pediatrics and in the Department of Medical Sciences at the Hackensack Meridian School of Medicine.
"Johannes Zakrzewski is an effective clinician who is exploring some potentially important therapeutic pathways in blood cancers," said David Perlin, Ph.D., the chief scientific officer and senior vice president of the CDI. "His concepts show promise."
Small Molecules, the Thymus, Myeloma Models
A pipeline of projects is underway in Zakrewski's laboratory on the fourth floor of the CDI. Broadly, it all involves arming the immune system, particularly lymphocytes known as T cells, and making it more effective to treat multiple myeloma, lymphoma and other blood cancers.
Chief among them, and furthest along, is a novel small molecule compound which targets oxidative stress – and particularly in the NF-κB pathway, a protein transcription factor family of interactions which underpin a variety of cellular functions including inflammation and immune responses. The drug employs a novel concept: combining inhibition of NF-κB DNA binding with the modulation of the oxidation of cancer cells, allowing them to be more susceptible to the immune system and ultimately produce more effective anti-tumor activity. The drug is a long-term project between the laboratory and the San Diego-based drugmaker Immune Target.
Zakrzewski and his CDI laboratory are also investigating the efficacy of engineered chimeric antigen receptor T cells, or CAR-T. These natural immune system cells are armed and aimed in the laboratory to fight specific tumors, and are one of the most promising kinds of immunotherapies. Many researchers have investigated the potential of these interventions in the last decade, with amazing results in certain types of malignancies. One of the biggest challenges, however, is finding a method for manufacturing of minimally differentiated or ideally "naïve" CAR-T cells, which can be most effective against highly aggressive tumors, and in a number sufficient to fight disease.
A novel tactic that's part of Zakrzewski's plan is to harness the capabilities of the thymus, the primary lymphoid organ that makes T cells in a patient's body, and employ it in fighting the cancer. By converting the thymus into a "bioreactor" that can produce the genetically modified CAR-T cells targeting tumors, the body can continue employing its own ongoing immunotherapy – thus potentially solving one of the aforementioned "bottlenecks" for greater application of this immunotherapy. A consequent approach could be the insertion of additional tissue to further guide the thymus to produce the right kinds of cells to fight tumors.
Multiple myeloma is another disease that Zakrzewski investigates. Although great strides have been made against this recurrent, stubborn cancer, it remains basically impossible to "cure." Further complicating research is that myeloma patient cells do not survive well outside the human body, meaning patient-specific animal models have heretofore been extremely difficult to come by. But Zakrzewski and some other CDI colleagues are developing a xenograft platform which could ultimately lead to "personalized" models of individual disease – where investigative therapies could be tried on patient's tumors before the patients are directly treated.
In all this, the therapies and solutions of medical problems come only after fully investigating a mechanism and its dynamics, said the CDI scientist.
"Curiosity comes first," said Zakrzewski. "Problem solving follows that.
"In this line of work, you go where the data points – and that can change," he added. "Every single day can change your outlook. The beauty of doing this kind of research is you put pieces of the puzzle together over years and even decades. You can make a difference."
Clinical Pediatrics
Zakrzewski is a practicing clinician, working children who undergo stem cell transplants to fight their cancer at Hackensack University Medical Center. Although his time is spent mostly in research at the CDI, it's a critical role he plays in helping these most vulnerable of all patients get the best chance for recovery possible.
Watching those tough cases in children can be tough clinically – and it's not for everyone, said Zakrzewski.
"Some people can't do it – some people can't not do it, once they know they are good at it," he said. "You have to be the right kind of person."
Of course, the clinical experience informs what one does in the laboratory, he added. Treating patients, and trying to discover new ways to treat patients of the future, are ways to make progress, he said.
"As a physician-scientist, it's a very unique position – you're talking to patients and families while doing the science."
New York, New York
Zakrzewski grew up in northern Bavaria, and he earned his medical degree from Friedrich-Alexander University. He completed his residency in pediatrics at the University Hospital of Essen.
But when he realized his interest in research, the options became clear: to further his scientific goals with more time in the laboratory, he needed to move to the United States. New York, and its cluster of notable cancer institutions, was the logical place to begin.
Several stints at Memorial Sloan Kettering were punctuated by his (second) residency at SUNY Downstate Medical Center, to supplement his German medical degree so he could practice in the United States.
When the CDI opened up, the possibility to split time between research and his clinical expertise in pediatric stem cell transplants was another logical choice, he said.
Zakrzewski also continues to live in his beloved Manhattan with his wife, also a scientist. Besides the career opportunities, a big part of the allure of coming to the Big Apple in the late 1990s was the jazz-fusion improvisational music scene. Although gentrification has led to the disappearance of most of the music clubs he used to frequent, he still lives for the big lights, and the life, in New York City.
"It's not the same city it was, but it's still a one-of-a-kind place," he said.