Research in the Lu Lab
The lab investigates the molecular drivers of tumor immune tolerance and anti-tumor immunity, which will lead to novel cancer immunotherapies. Mutations are the major driver of cancer development, but also render cancer cells susceptible to recognition and eradication by T cells. Therefore, tumor cells must develop mechanisms of active immune suppression and down-regulate genes that mediate immunogenicity (Figure 1). We use data science and cutting-edge tumor immunological techniques to study the mechanisms of tumor immune evasion and tumor immune surveillance in mouse cancer models and human cancers. We have discovered that epithelial "alarmin" cytokines, such as IL-33 and IL-36, are downregulated during cancer progression and shown that delivery of these cytokines to tumor tissues produces potent anti-tumor effects. These studies support the notion that downregulation of IL-33 and IL-36 contributes to tumor immune evasion. In addition, these discoveries have prompted our current research effort to develop novel cancer immunotherapies leveraging the anti-tumor activities of these cytokines (Figure 2). Understanding the mechanism of action is crucial for the success of novel cytokine-based therapies. Using genetically engineered mouse models, ex-vivo human tumor cultures, and a suite of big data-driven approaches, our team aims to uncover how therapeutic cytokines, such as IL-33 and IL-36, drive anti-tumor immune responses (Figure 3).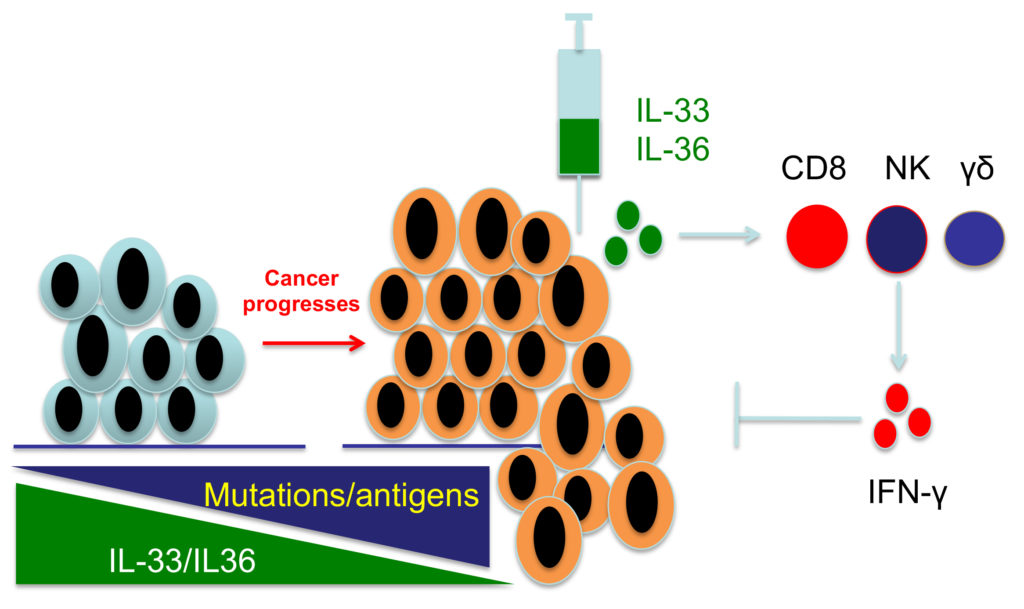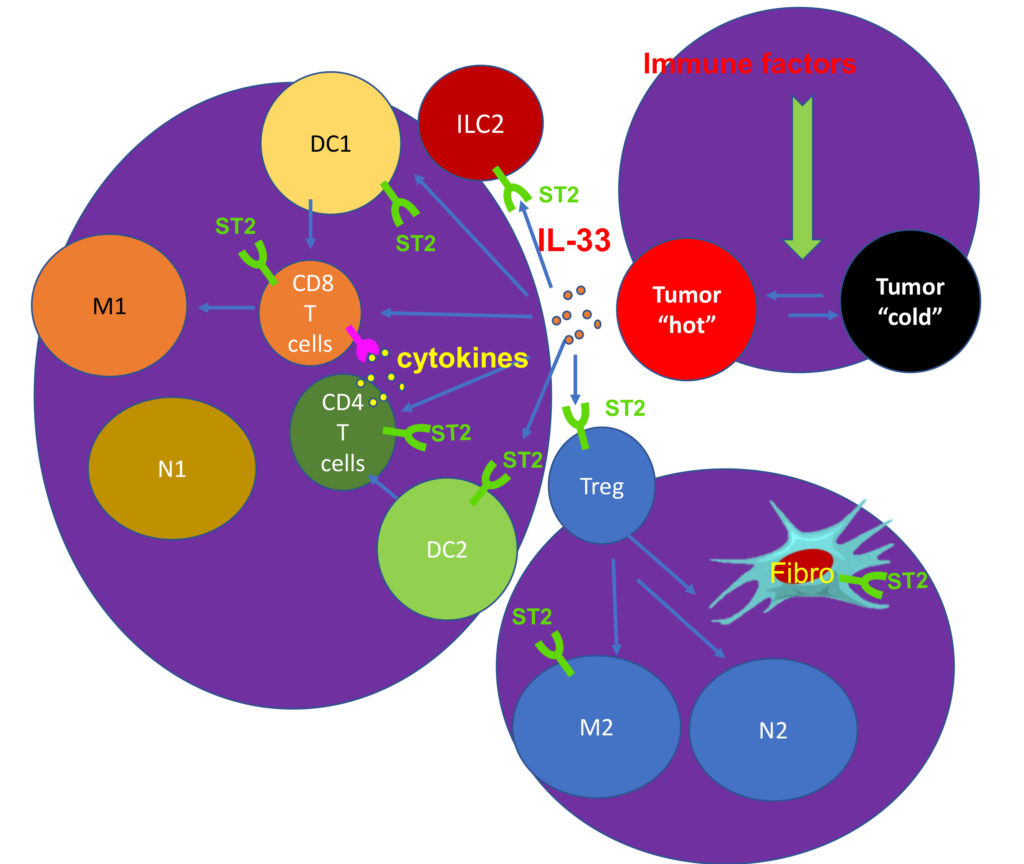 Selected publications:
Tissue-derived cytokines in tumor immune surveillance and anti-tumor immunity.
Chen L, Sun R, Xu J, Zhai W, Zhang D, Yang M, Yue C, Chen Y, Li S, Turnquist H, Jiang J, and Lu B. Tumor-derived interleukin 33 promotes tissue resident CD8+ T cells and is required for checkpoint blockade tumor
immunotherapy. Cancer Immunology Research 2020 Nov;8(11):1381-1392. doi: 10.1158/2326-6066.CIR-19-1024. PMID: 32917659; PMCID: PMC7642190. (Cover story).
Wang X, Zhao X, Feng C, Weinstein A, Xia R, Wen W, Lv Q, Zuo S, Tang P, Yang X, Chen X, Wang H, Zang S, Stollings L, Denning TL, Jiang J, Fan J, Zhang G, Zhang X, Zhu Y, Storkus W, Lu B. IL-36γ transforms the tumor
microenvironment and promotes type 1 lymphocyte-mediated antitumor immune responses. Cancer cell 2015 28: 296-306.PMID:26321222. PMCID: PMC4573903
Gao X, Wang X, Yang Q, Zhao X, Wen W, Li G, Lu J, Qin W, Qi Y, Xie F, Jiang J, Wu C, Zhang X, Chen X, Turnquist H, Zhu Y, Lu B. Tumoral Expression of IL-33 Inhibits Tumor Growth and Modifies the Tumor Microenvironment
through CD8+ T and NK Cells. J Immunol. 2014 Nov 26. pii: 1401344. [Epub ahead of print] PubMed PMID: 25429071. PMCID: PMC4272901
Yang Q, Li G, Zhu Y, Liu L, Chen E, Turnquist H, Zhang X, Finn OJ, Chen X, Lu B. IL-33 synergizes with TCR and IL-12 signaling to promote the effector function of CD8+ T cells. Eur J Immunol. 2011 Nov;41(11):3351-60. doi:
10.1002/eji.201141629. Epub 2011 Oct 13. PubMed PMID: 21887788; PubMed Central PMCID: PMC3332117.
Development of cytokine-based cancer immunotherapies.
Chen Y, Huang Y, Li Q, Luo A, Zhang A, Huang H, Sun J, Zhang L, Sun R, Baind DJ, Conwaye J, Lu B*, and Li S*. *Co-corresponding authors. Targeting Xkr8 via Nanoparticles-Mediated In Situ Codelivery of SiRNA and Chemotherapy
Drugs for Cancer Immunochemotherapy. Nature Nanotechnology (accepted). 2022
Yang M, Giehl E, Feng C, Feist M, Chen H, Dai E, Liu Z, Ma C, Ravindranathan R, Bartlett D, Lu B*, and Guo Z*. *co-corresponding authors. IL-36g-armed Oncolytic Virus Exerts Superior Efficacy through Induction of Potent
Adaptive Antitumor Immunity. Cancer Immunology and Immunotherapy. 2021 Feb 4. doi: 10.1007/s00262-021-02860-4. PMID: 33538860.
Wan Z, Sun R, Liu YW, Li S, Sun J, Li J, Zhu J, Moharil P, Zhang B, Ren P, Ren G, Zhang M, Ma X, Dai S, Yang D, Lu B, Li S. Targeting metabotropic glutamate receptor 4 for cancer immunotherapy. Sci Adv. 2021 Dec
10;7(50):eabj4226. doi: 10.1126/sciadv.abj4226. Epub 2021 Dec 10. PMID: 34890233
Wu S, Sun R, Tan B, Chen b, Zhou W, Gao DS, Zhong J, Huang H, Jiang J and Lu B The Half-Life-Extended IL21 can Be Combined with Multiple Checkpoint Inhibitors for Tumor Immunotherapy. Front Cell Dev Biol 2021 Nov
15;9:779865. doi: 10.3389/fcell.2021.779865. eCollection 2021.
Chen Y, Xia R, Huang Y, Zhao W, Li J, Zhang X, Wang P, Venkataramanan R, Fan J, Xie W, Ma X, Lu B, Li S. An immunostimulatory dual-functional nanocarrier that improves cancer immunochemotherapy. Nat Commun. 2016 Nov
7;7:13443. doi:10.1038/ncomms13443. PubMed PMID: 27819653; PubMed Central PMCID: PMC5103075.
Immune suppression mechanisms in the tumor microenvironment.
Wang W, Wu S, Cen Z, Yixin Zhang Y, Chen Y, Huang Y, Cillo AR, Prokopec JS, Quarato G, Vignali DA, Stewart-Ornstein J, Li S, Lu B*, and Gong Y*. *Co-corresponding authors. Mobilizing Phospholipids on Tumor Plasma Membrane
Reveals Phosphatidylserine Externalization Blockade for Cancer Immunotherapy. Cell Reports. (in press) 2022
Yang M, Du W, Yi L, Wu S, He C, Zhai W, Yue C, Sun R, Menk AV, Delgoffe GM, Jiang J, Lu B. Checkpoint molecules coordinately restrain hyperactivated effector T cells in the tumor microenvironment. OncoImmunology. 2020 Jan
30;9(1):1708064. doi: 10.1080/2162402X.2019.1708064.PubMed PMID: 32076578; PMCID: PMC6999836.
Liu Z, McMichael EL, Shayan G, Li J, Chen K, Srivastava R, Kane LP, Lu B, Ferris RL. Novel Effector Phenotype of Tim-3+ Regulatory T Cells Leads to Enhanced Suppressive Function in Head and Neck Cancer Patients. Clin Cancer
Res. 2018 Sep 15;24(18):4529-4538.PubMed PMID: 29712685; PMCID: PMC6139056.
Gao X, Zhu Y, Li G, Huang H, Zhang G, Wang F, Sun J, Yang Q, Zhang X, B Lu. TIM-3 expression characterizes regulatory T cells in tumor tissues and is associated with lung cancer progression. PLoS One. 2012;7(2):e30676. doi:
10.1371/journal.pone.0030676. Epub 2012 Feb 17. PubMed PMID: 22363469; PMCID: PMC3281852.
Autophagy and amino acid metabolism in T cell-mediated immune responses in cancer and autoimmunity.
Yang X, Xia R, Yue C, Zhai W, Du W, Yang Q, Cao H, Chen X, Obando D, Zhu Y, Chen X, Chen JJ, Piganelli J, Wipf P, Jiang Y, Xiao G, Wu C, Jiang J, Lu B. ATF4 Regulates CD4+ T Cell Immune Responses through Metabolic
Reprogramming. Cell Rep. 2018 May 8;23(6):1754-1766. PMCID: PMC6051420
Kovacs J, Yang Q, Gonzalez-García I, Li C, Ju S, Gonzales-Garcia I, Chen X, Zhang X, and Lu B, Autophagy promotes T-cell survival through degradation of proteins of the cell death machinery. Cell Death Differ. 2012
Jan;19(1):144-52. doi: 10.1038/cdd.2011.78. Epub 2011 Jun 10. PubMed PMID: 21660048
Li C, Capan E, Zhao Y, Zhao J, Stolz D, Watkins S, Jin S, Lu B. Autophagy is induced in CD4+ T cells and important for the growth factor-withdrawal cell death. J Immunol. 2006 Oct 15;177(8):5163-8. PubMed PMID: 17015701.
Liu L, Tran E, Zhao Y, Huang Y, Flavell R, Lu B. Gadd45 beta and Gadd45 gamma are critical for regulating autoimmunity. J Exp Med. 2005 Nov 21;202(10):1341-7. Epub 2005 Nov 14. PubMed PMID:16287712; PubMed Central PMCID:
PMC2212988.