Chen Lab
Liang Chen, Ph.D. is an Associate Member of the Center for Discovery and Innovation (CDI) and an Associate Professor at the Hackensack Meridian School of Medicine.
Dr. Chen studies the molecular epidemiology of antimicrobial resistance and infectious disease, with particular focus on Multidrug resistant Gram-negative bacteria (MDRGN), Methicillin-resistant Staphylococcus aureus (MRSA), and multiresistant mycobacteria. Dr. Chen has authored over 150 peer-reviewed publications and had > 60 posters/oral presentations on international and/or national conferences. He uses genomic sequencing together with informatics tools and clinical epidemiology to tackle the menace of emerging bacterial resistance.
Currently, Dr. Chen is seeking to decipher the molecular evolution of carbapenem-resistant Enterobacteriaceae (CRE). CRE have been described as "nightmare bacteria", and been classified as an "urgent threat" by CDC. CRE have increased over the past decade and grown resistance to even the most powerful antibiotics. The worldwide dissemination of CRE is predominately associated with a major Klebsiella pneumoniae clone, ST258. Using the whole genomic analysis, Dr. Chen and his colleagues have revealed that the ST258 is a hybrid strain that originated as a large chromosomal recombination (Fig1). Meanwhile, this superclone is under significantly diversification, primarily due to the recombination of antigen encoded capsular polysaccharide synthesis (cps) region and plasmid acquisition.
A major concern about CRE is that resistance targets are primarily carried on plasmids that can easily transfer the resistance to other bacteria. Another aspect of Dr. Chen's work is to develop robust molecular detection platforms to track the dissemination of the life-threatening bacteria, and more importantly, to explore CRE transmission from the traditional "strain epidemiology" to "plasmid epidemiology". Using WGS technique and comparative genomic analysis, Dr. Chen has identified and characterized the epidemic drug-resistant plasmids prevailing in the epicenter of this epidemic (NY/NJ) and developed molecular tools to rapidly track the spread of these resistance plasmids. Meanwhile, he has also been devoted to investigating other mobile genetic elements (MGE)-mediated mechanisms, such as plasmid-encoded colistin and tigecycline resistance in Enterobacteriaceae, and plasmid-mediated hypervirulence in K. pneumoniae.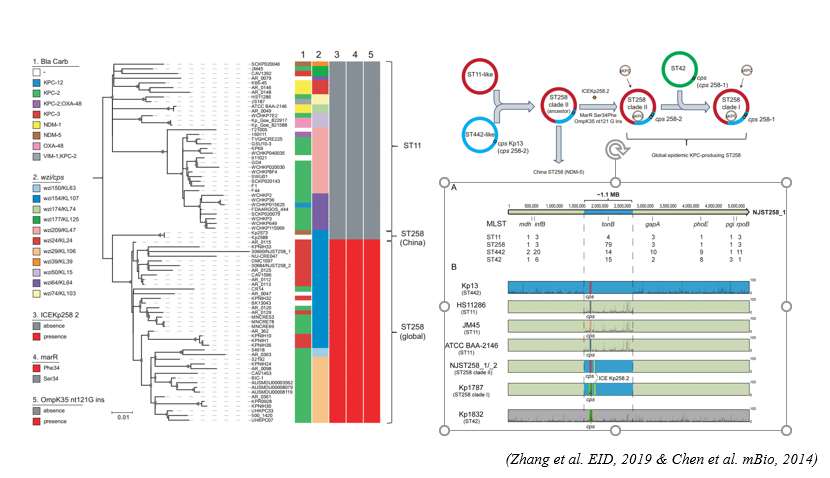 Publications in recent 3 years:
Ocampo AM, Chen L, Cienfuegos AV, Roncancio G, Chavda KD, Kreiswirth BN, Jiménez JN. A Two-Year Surveillance in Five Colombian Tertiary Care Hospitals Reveals High Frequency of Non-CG258 Clones of Carbapenem-Resistant Klebsiella pneumoniae with Distinct Clinical Characteristics. Antimicrob Agents Chemother. 2016 Jan;60(1):332-42. doi: 10.1128/AAC.01775-15. Print 2016 Jan. PubMed PMID: 26503660; PubMed Central PMCID: PMC4704171.