Research in the Dick Lab
The lab's focus is on the discovery of new preclinical development compounds against TB and Non-Tuberculous Mycobacterial (NTM) lung disease, including Mycobacterium abscessus and Mycobacterium avium. We apply a 'compound first strategy', i.e. we start with new chemical entities showing whole cell activity. This is followed by target deconvolution and hit-to-lead chemistry to deliver target-lead couples. In addition to de novo drug discovery, we carry our repositioning projects. Overall, we are prioritizing broad spectrum anti-mycobacterials active against both NTM and TB. NTM lung disease is depicted in Fig. 1. Fig. 2 shows a flow chart guiding compound progression. Fig. 3 shows a recent example of target deconvolution.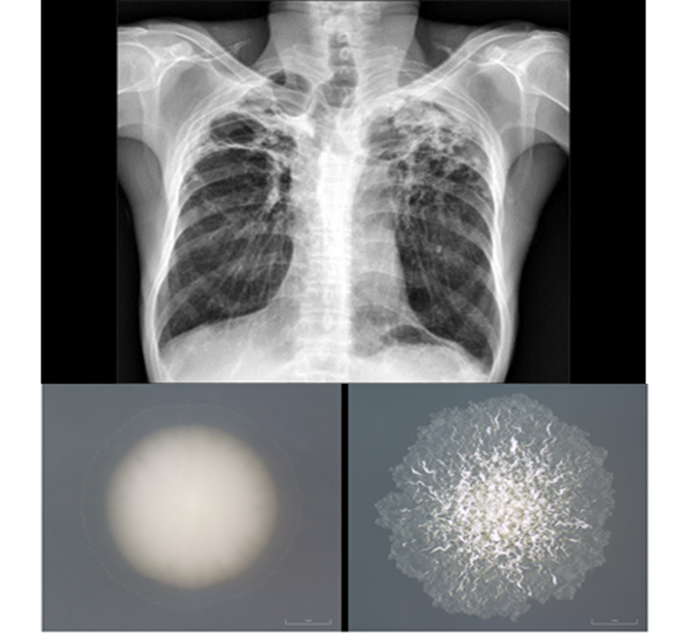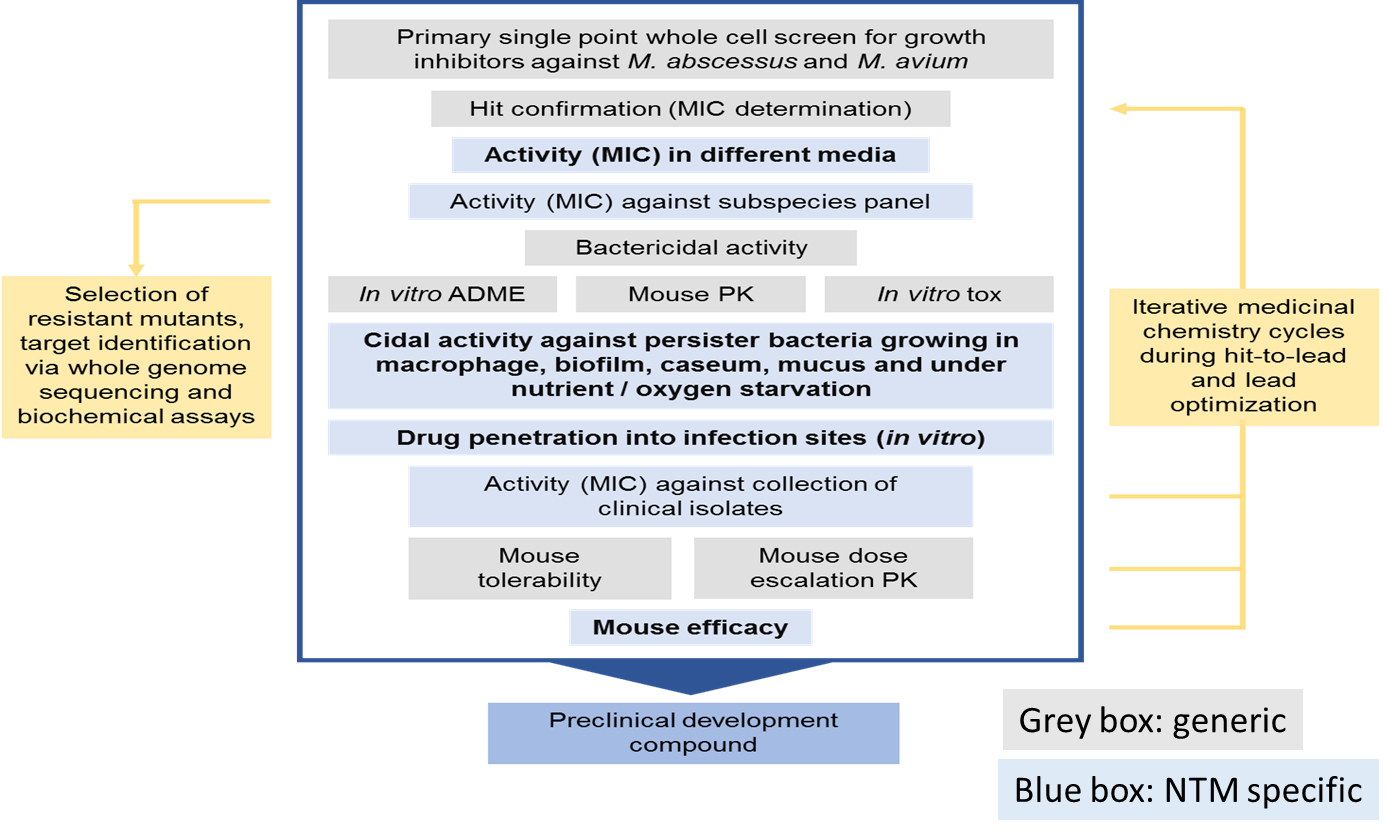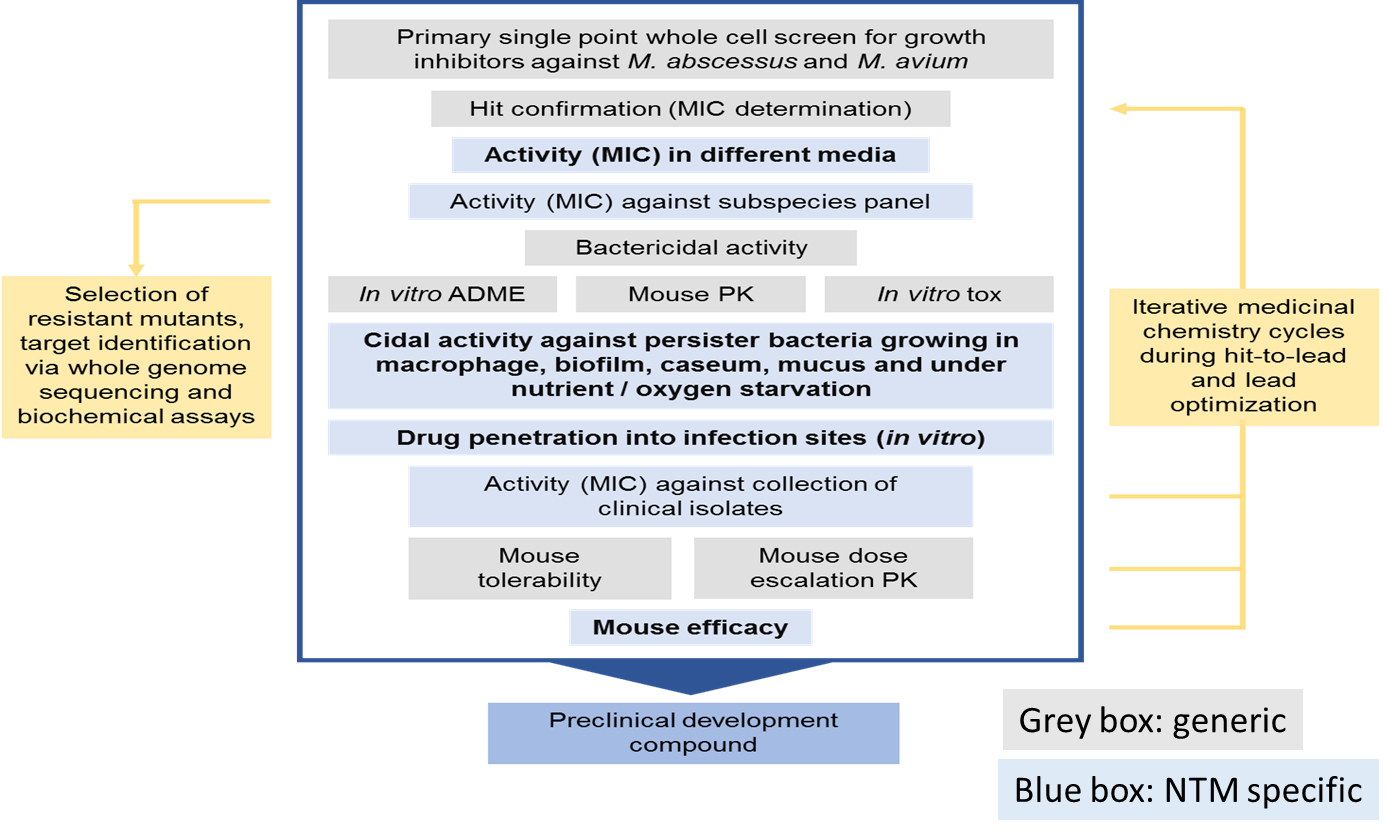 Recent publications (2020/March 2023)
Negatu DA, Aragaw WW, Cangialosi J, Dartois V, Dick T. Side-by-Side Profiling of Oxazolidinones to Estimate the Therapeutic Window against Mycobacterial Infections. Antimicrob Agents Chemother. 2023 Mar 15:e0165522. doi: 10.1128/aac.01655-22. Epub ahead of print. PMID: 36920191.
Sarathy JP, Aldrich CC, Go ML, Dick T. PROTAC antibiotics: the time is now. Expert Opinion on Drug Discovery. 2023 Feb 23:1-8.
Negatu DA, González Del Río R, Cacho-Izquierdo M, Barros-Aguirre D, Lelievre J, Rullas J, Casado P, Ganapathy US, Zimmerman MD, Gengenbacher M, Dartois V, Dick T. Activity of Oral Tebipenem-Avibactam in a Mouse Model of Mycobacterium abscessus Lung Infection. Antimicrob Agents Chemother. 2023 Feb 16;67(2):e0145922. doi: 10.1128/aac.01459-22. Epub 2023 Jan 23. PMID: 36688684; PMCID: PMC9933631.
Stampolaki M, Malwal SR, Alvarez-Cabrera N, Gao Z, Moniruzzaman M, Babii SO, Naziris N, Rey-Cibati A, Valladares-Delgado M, Turcu AL, Baek KH, Phan TN, Lee H, Alcaraz M, Watson S, van der Watt M, Coertzen D, Efstathiou N, Chountoulesi M, Shoen CM, Papanastasiou IP, Brea J, Cynamon MH, Birkholtz LM, Kremer L, No JH, Vázquez S, Benaim G, Demetzos C, Zgurskaya HI, Dick T, Oldfield E, Kolocouris AD. Synthesis and Testing of Analogs of the Tuberculosis Drug Candidate SQ109 against Bacteria and Protozoa: Identification of Lead Compounds against Mycobacterium abscessus and Malaria Parasites. ACS Infect Dis. 2023 Feb 10;9(2):342-364. doi: 10.1021/acsinfecdis.2c00537. Epub 2023 Jan 27. PMID: 36706233.